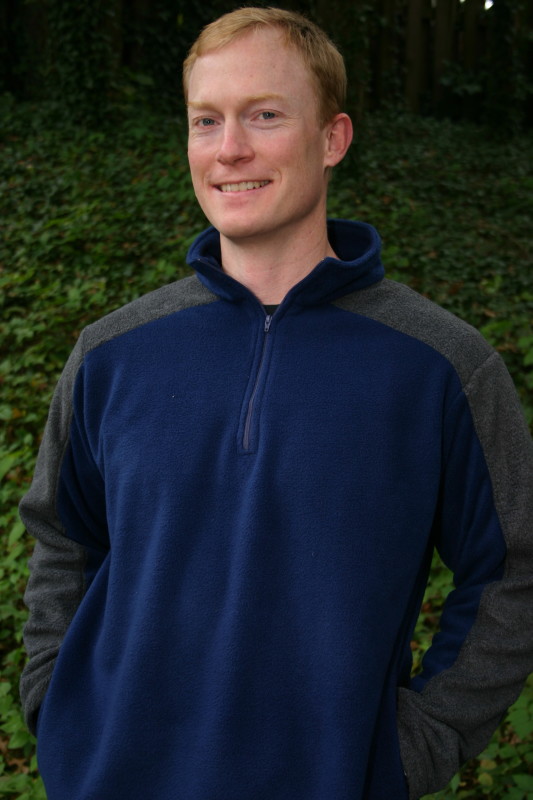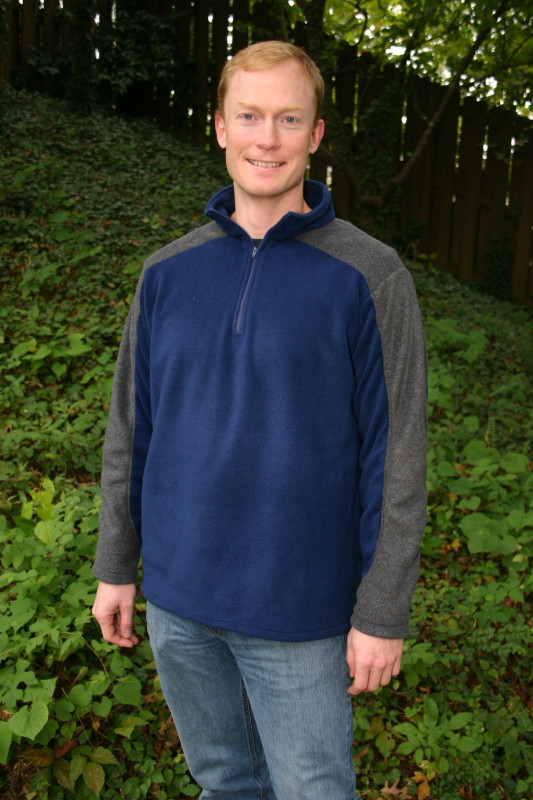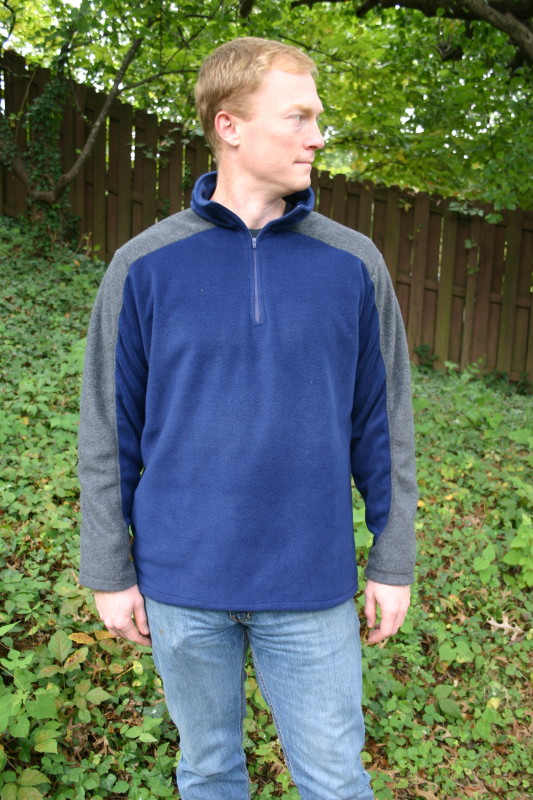 My husband benefited this week from my time spent sewing…just in time for our first cold and dreary Missouri fall day!
I jumped at the chance to test this fantastic Men's Sierra Pullover pattern from 5 out of 4 patterns as this jacket is just what I was looking for!  It can be made in solid or contrast version (the contrast version is pictured above), a variety of fabrics can be used as long as it has at least 25% stretch: think fleece, bottom weight jersey, sweater knit, sweatshirt fleece, etc.
Since the whole purpose of sewing for myself (or my husband in this case) is that a custom fit can obtained by fixing everything my husband hates about RTW clothing.  His chief complaints are that the sleeves and hem length are too short and pockets are not big enough.  His other complaint is that to find shirts/jackets that fit his shoulders, the body of the item is too large and he is "swimming" in it.
Okay. Basically RTW clothes fit him poorly and this may be why he hates shopping!
Disclaimer:  I received a complimentary copy of the pattern in exchange for testing.  However, all opinions are my own!
Pattern:
As I mentioned above this 1/4 zip fleece pullover pattern has many options for customizing the pattern: solid versus contrast fabric, side seam pockets and a 9 or 12 inch zipper at the collar.  The size ranges from XXS to 3XL allowing for that custom fit.  The pattern itself has no trim papers and you can select to print just the size you want.
Fabric:  Recommendations are for fabric with at least 25% stretch
Construction:
Overall, the jacket went together fairly easy.  The zippers for the pockets and collar are definitely where most of my time was spent.  If you are new to zippers, I felt that their instructions and pictures were very good at explaining how to install them.  The strongly recommend using Wonder tape (quilting section of your favorite fabric store) to assist in the installation of the collar and zipper.  I second this!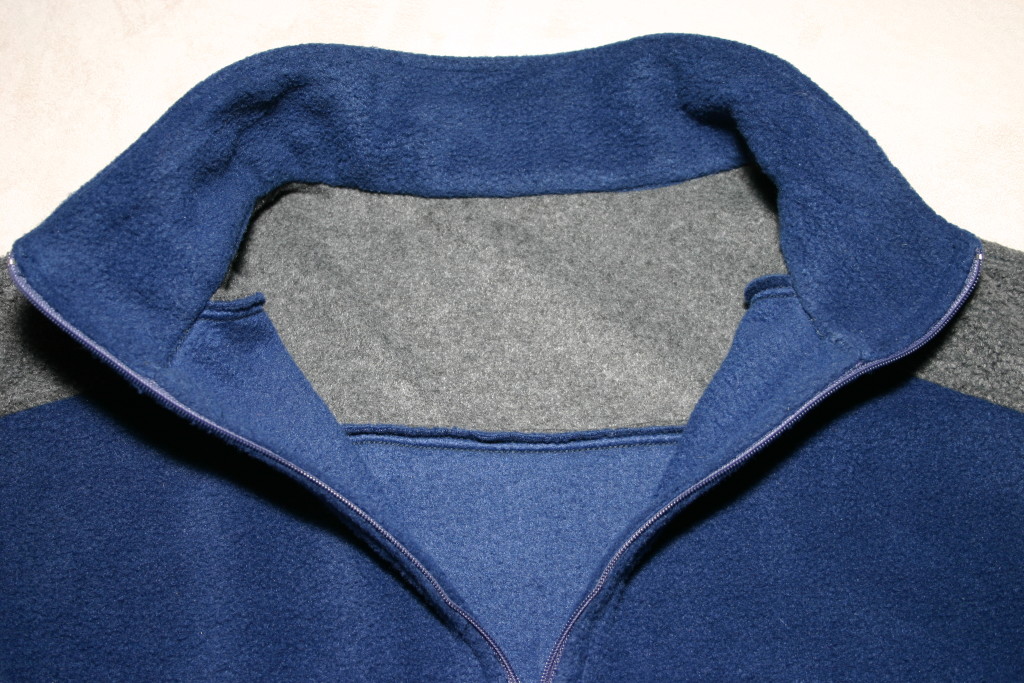 I did not serge my seams since this is fleece, but I did flatten my seams and top stitch them down.
Overall:
I did extend the arm length by about 1/2 inch and increased the hem length by 2 inches as requested by my husband. The body of the jacket was a bit loose and I could probably grade it down to a size medium, but it is suppose to be roomy and he did not feel like he was "swimming" in fabric.  The side seam of the bodice lines up perfectly on my husband, but the pockets feel a bit awkward to him.  He requested that the next version have either a kangaroo pocket or perhaps a pocket cut/placed more forward in the front of the jacket.  I am thinking "welt" pockets or something similar.
We had a bit of fun modelling the jacket! And after wearing the jacket all weekend long, my husband gave it his stamp of approval and the go ahead to make him more….so the planning and hacking has started.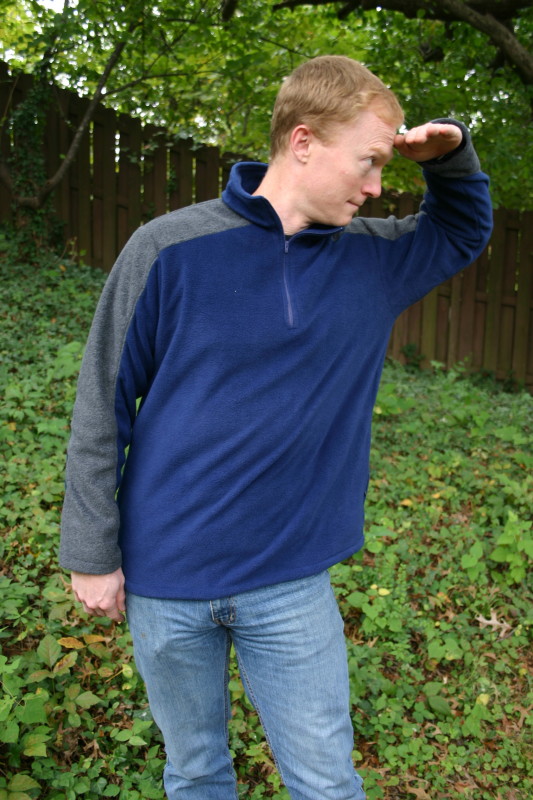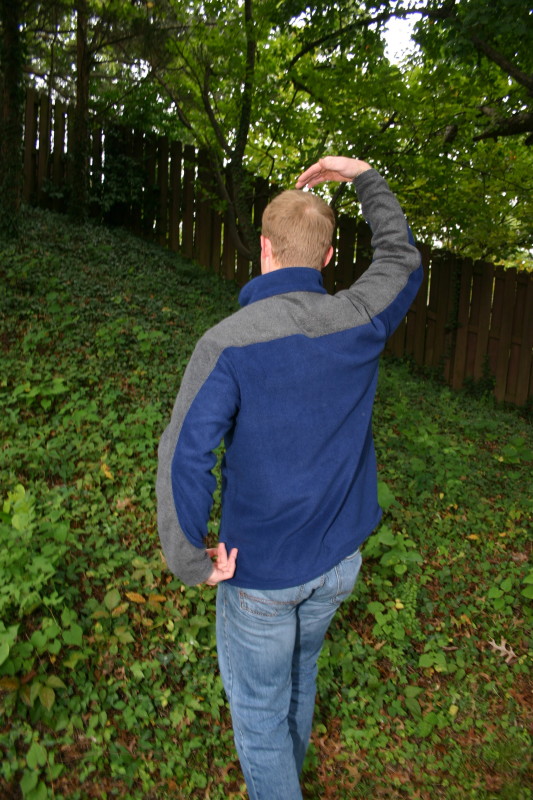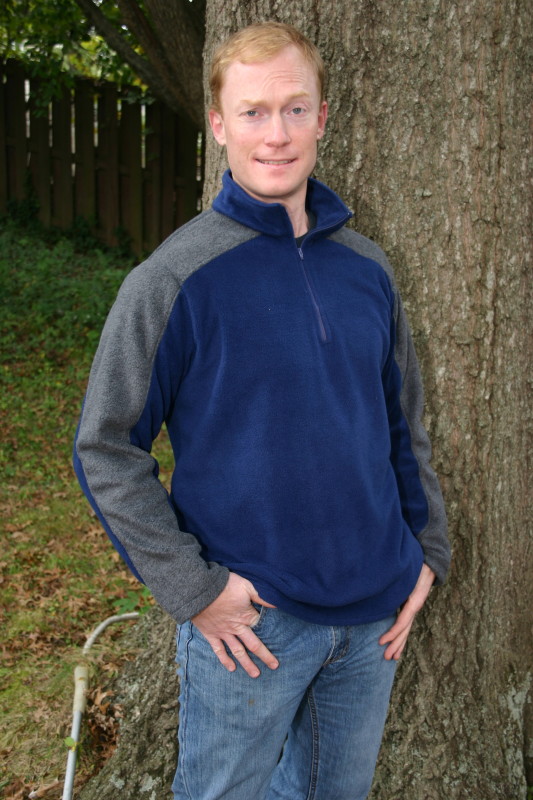 Pattern hack ideas:
Try with non-stretch fabric (I am thinking Gortex)
Zipper guard
Kangaroo pocket
Side pockets moved off the seam and onto the front of the jacket
Zippered accessory pocket on the chest area
Button hole located near the pocket for headphones
"Pit" zippers located along the armpit seam for ventilation