I have been doing some selfish sewing recently and both my kids have been asking when and what I am making them!   My daughter seems to go through Mommy sewing "withdrawals" the most since I am most often sewing for her.  She was very excited when I began sewing up something that looked pink (and therefore MUST be for her), until she realized it was a sweater tunic for myself.
Luckily for her, Jessica over at 5 Out of 4 Patterns put out a testing call for the Girls Weekender Tunic (I posted a review about the womens Weekender Tunic here).  This pattern is loaded with options just like the Womens version.  And naturally, she wanted one like mine (gray) and a pink one.  Her wish was my command.
Pattern: Girls Weekender Tunic
What I really love about 5oo4 patterns, is all her options!  And they are all included in the original pattern, no add-on pack ($$) needed!
Crew neck, scoop neck, funnel neck, hoodie, lace up placket
Straight or high-low hem
Traditional turned sleeve cuff, rolled hem or banded cuff with thumbholes
Sizes: 2T to 18 years
This extended size range is unique to 5oo4 as I usually only see up to 12 or 14 years of age.  My daughter is 6 yrs old and is average on all the growth charts.  I cut and sewed a size 6 and cut 1″ off of the length so it hit her under her bum instead of mid-thigh.  This worked out well with the 2 sweater knit tops (gray and pink) because the weight of the fabric "pulled down".  However, the lace mesh fabric is a lot more stable and I should have left the inch in length on there.  Overall, the sizing is spot on.
Fabric and Construction:
This pattern calls for a light to mid-weight sweater knit with 25% stretch.  Naturally I had to test the boundaries and I made this fabulous lace mesh tunic that had some stretch (not much) and I lined the inside of the funnel with a jersey cotton/lyrca knit.  She had some trouble with the funnel being snug as she pulled it over her head, but once on it was comfortable.  Overall this pattern goes together very quickly.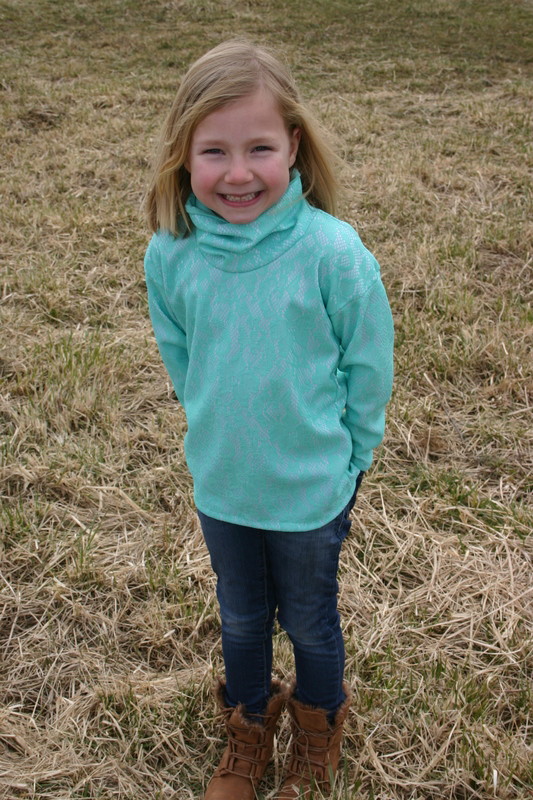 You can make the construction even faster if you do what I did with the pink sweater.  I repurposed a RTW adult sweater poncho and used the finished edges for my sleeves and hemline. I really enjoy the funnel neckline because this means I do not have to turn the collar and topstitch, saving time! The pink sweater was a 100% acrylic and very stretchy with great drape.  The funnel neckline sits a lot lower than the lace mesh above and I would not want to use the scoop neck version with such a drapey fabric, but I could see using it in the lace mesh. Jessica does mention in the tutorial that the scoop neck is not recommended in the smaller sizes for this reason. I have a few ideas that will "fix" this problem that you will have to keep reading to find out what they are!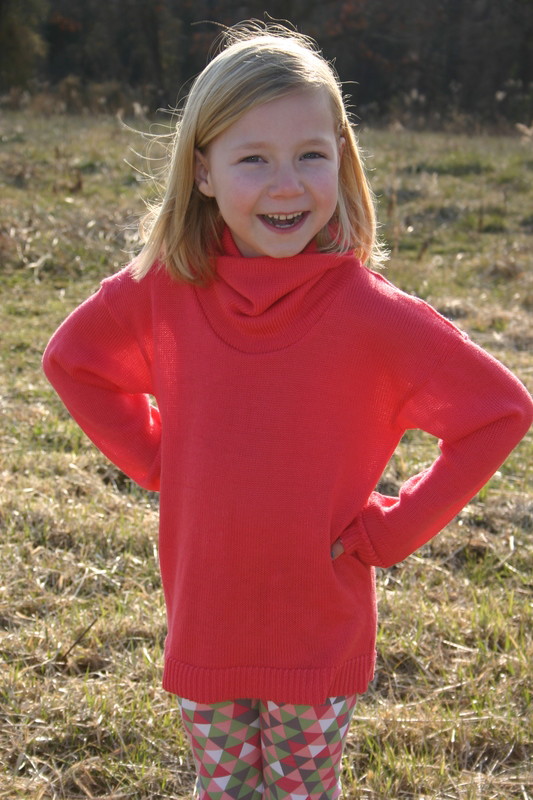 Overall: My daughter has an aversion to jackets and cardigans. However, she loves the three sweaters I made her and there is plenty of ease in the pattern that I can layer underneath for extra warmth. The tutorial is very clear and concise with pictures to help with construction.  She has links within the tutorial that you can skip to the page that you need saving time from scrolling through the pages.  Also, I really like the ability to print only the size I need and the no trim pages for the pattern.
Future Pattern Hacks:
Scoop neck- bind the collar similar to a T-shirt using 75-85% of the measured neck line depending on the fabric
Scoop neck- create a facing for more stable knit and turn under and topstich
Scoop neck- finish as directed in the tutorial, but intend to layer with a turtle neck or collared shirt
Bathing suit cover-up in French terry