Like may others I have obsessed with sewing a Capsule Wardrobe.  Poured over patterns, raided my stash and nothing.  Over and over again I reach for solids and layering pieces for both work or play.  So what better way to start than with Patterns for Pirates' (P4P hereafter) Layer Me Up shirt pattern.  I started this post last spring, whoops and finished the green 3/4 sleeve this fall….and now I will share.
Pattern: Layer Me Up
The pattern designer has several patterns that are great wardrobe staples and I finally chose to purchased her Layer Me Up tee pattern.  I liked the variety of options available with sleeveless, short, 3/4 sleeves and long sleeves.  She has several different lengths including t-shirt length and tunic.  Both have options to be banded as well.  In general, her patterns are designed for a longer length and is one of the main reasons that I chose this pattern.  She also drafts for a C-cup which means that the FBA that I will need to do will be smaller.
This pattern is definitely as the name suggests- a layering piece.  Not saying that it cannot be worn alone, because it certainly can, but it is very slim fitting so if you have rolls or muffin top keep that in mind!
Size:  Her pattern sizing is a bit confusing as she originally drafted for XXS to 2XL.  She then extended the sizing and now has plus size 1X, 2X and 3X.  This is great for plus size sewist because now the pattern is extended up to a 54″ chest and 58″ hip!
My measurements are :
High bust 41″
Full bust 45″
Waist 37.25″
Hips 45″
This means that I chose an XL for the "chest" measurement using my high bust measurement to ensure that it fits my shoulders and graded to a 2XL for my waist and hips.  My hip measurements actually fall at the upper end of the XL, but I honestly do not mind more ease so I graded it out.
Fabric: Knits
Construction:  This is definitely a great pattern for a newbie and a breeze for an advanced sewist.  The size is definitely slim fit and I am glad that I graded out to the 2XL for my waist and hips. I was feeling lazy for the my first muslin and did not add a FBA (white tank) as she drafts for a C-cup and I am a D-cup.  I hoped the stretchiness of the knit would be okay and I haven't sewn up this designers patterns before.  It didn't work.  I have horizontally wrinkles across the bust showing that the fabric is too tight.
So FBA, here I come.  What did I do?  I added 1″ (2″ total) to my bodice front pattern piece.  Urgh!  I only NEED to add 1″ total if the designer drafts for B-cups, what a rookie mistake

  The result is this super cute blue floral tank that is definitely a wearable muslin!
Changes I wanted to make:
Adjust the armsyce…the designer had a great article about fit
Narrow the straps a fraction
Back to the drawing table and with the above changes…this time I only added 0.5″ (1″ total) to my bodice front.  And Voile! I think I finally nailed it!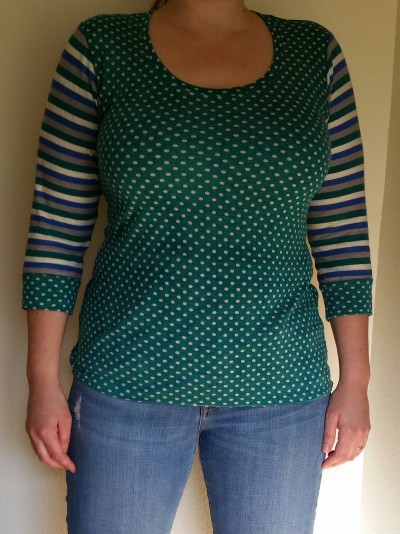 Overall:  If you are at the upper end of waist and/or hip measurement I would recommend grading up to the next size.  I graded the waist/hips to the 2XL size prior to the FBA.  If you have every done a FBA, then you know that this adds additional fabric to the sides.  I did not remove the extra ease that resulted from the FBA and left it in….meaning that I have added quite a bit of extra ease to this pattern and it is still slim fitting.  This is good information for me if I want to every try her slim fit raglan pattern.
Her tutorial is well organized, clear and easy to follow.  I do like when both the tutorial and pattern pieces are in the same PDF file. However, at the moment not all of her patterns have the option to select "layers" which allows you to print only the size(s) you need.  I know that she is updating older patterns to 1) extend the size range 2) add the "layer" feature to her pdf.
I really like this pattern and look forward to trying out some of her other ones!  Her style lines for her patterns are flattering, versatile and loaded with options!