This mama loves when I am in the fabric store with Mr. E and he either says 1) very dramatically, "not the fabric store again" or 2) he is making requests for clothes as he points out fabric "I need Lightening McQueen footy pajamas".   It is gratifying (and what keeps me up until the wee hours of the morning) making clothes for my children.  They LOVE them.
So I thought I would do a pattern review on one of my go-to patterns right now for my son.  He does NOT like buttons on his pants.  In fact, that is his only requirement. But I like re-enforced knee and durability.
Pattern: Rough 'N Tumble pants by Peek-A-Boo patterns
I love this pattern for the knit waistband and knee patches.  These pants are slimmer fitting and have the option to add elastic to the leg hem to turn them into the popular "joggers".   There are two options for the back: no pockets or welt pockets.  And the front are patch pockets.
Size Range: One of the things I absolutely love about PAB patterns is the wide range of sizes.  For this pattern the range is 3mo to 12 years old allowing for 12 years of use out of a single pattern.
Fabric: This pattern can be made with woven or knit fabric lending even more versatility and makes it great for busting through my fabric stash!
Construction: Like all PAB patterns the pants come together easily and the tutorial included with pattern is well designed with clear instructions.  I have my own preference for dealing with an elastic waistband that differs from the tutorial, but it is just that, a preference.
Overall: I love this pattern.  My skinny boy is 18mo waist and hips, but 5T length.  So, I have lengthened the legs and adjusted knee patch placement accordingly.  Of course, after I finished the denim pair he literally grew almost 2 inches and the added length is now just right.
On his denim pair,  I wanted regular back pockets so I borrowed a pocket pattern from another jeans pattern.  In retrospect, I need to change a few things on the denim pair 1) move the knee patch up about 1/2″ and 2) place the back pockets closer together.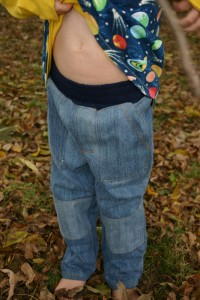 The legs do not go over the top of boots so for this winter coming up, I will want to widen the pant legs.
My son loves them and I need to make about 4 more pairs because he requests to wear "the pants you made me".  And they are perfect for my active little boy!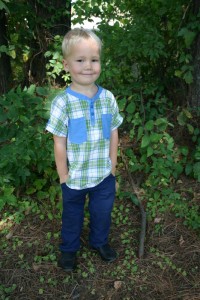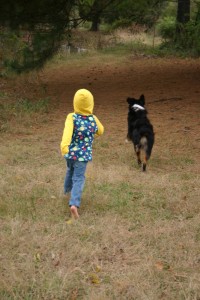 Future Pattern Hack:
Widen bottom pant leg to make more of a bootcut pant
Line with fleece or flannel for added warmth