Urban Dictionary:
Hack: a clever solution to a tricky problem; to hack is to modify or change something in an extraordinary way
Sewing is a lot like cooking for me.  I see what ingredients I have on hand, read the directions and then adjust accordingly.  I will read through a pattern and determine if the directions are 1) clear 2) the easiest approach 3) if I like the end result.  Obviously, if I am sewing a pattern I "like" the end result.  What I should really say is the finishing touches and for me the top 2 important factors are 1)  seams that are finished or enclosed in such a manner that will not irritate my children (and thus me) and 2) topstitching is a must for a finished looking product.
That being said my favorite children's shoe pattern at the moment is the Lil' Papoose Moccasins  from Peek-A-Boo patterns. My only complaint is that the interior of the shoe is left unfinished.  I envision irritating leather seams, leather dye rubbing off onto socks and rather uncomfortable little feet.
Below I have described how to line the moccasins for a more "finished" product.
I will give you two different ways of lining the shoes:
First Method:  this takes more steps, but makes it easier to ensure that layers do not slip around while sewing.
1. Assemble shoes as directed in pattern instructions or I sew the heel and toe pieces to the bottom all at once.  I put the heel on first, then overlap with the toe piece.  *Important* make sure the heel fringe does not get caught in the seam.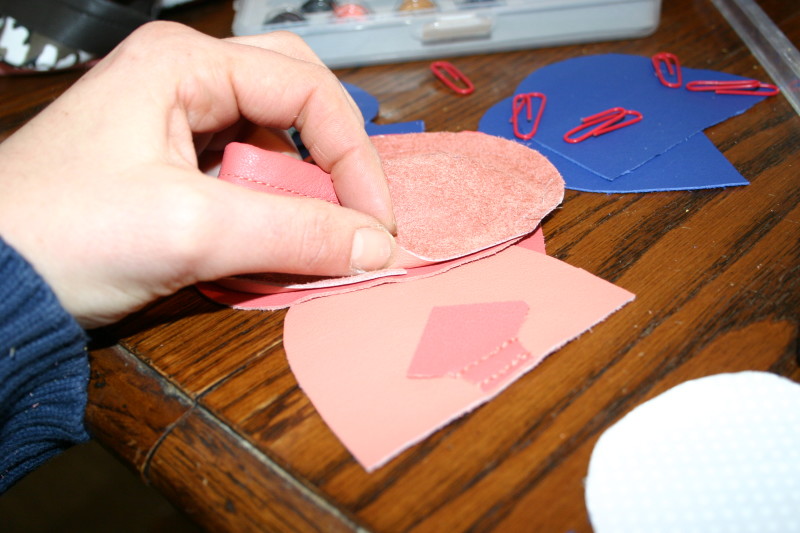 2. I  "pin" my moccasins with paper clips and I want you to note that I do not have the lining on yet.  I then sew around the entire shoe with 1/4inch seam allowance.  Do NOT leave a gap.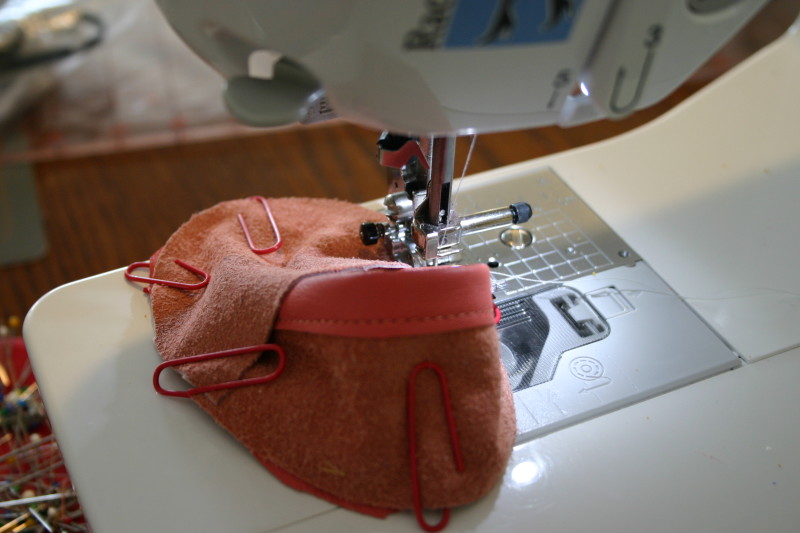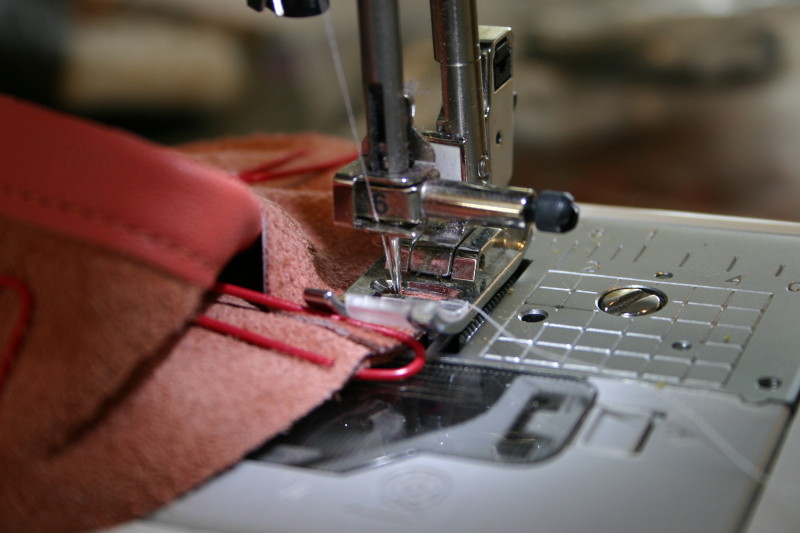 3. Next place the lining face down on top of moccasins, paper clip, then sew with a 1/4 inch seam allowance.  Make sure you leave about 1.5 inch gap so you can turn the moccasins right side out.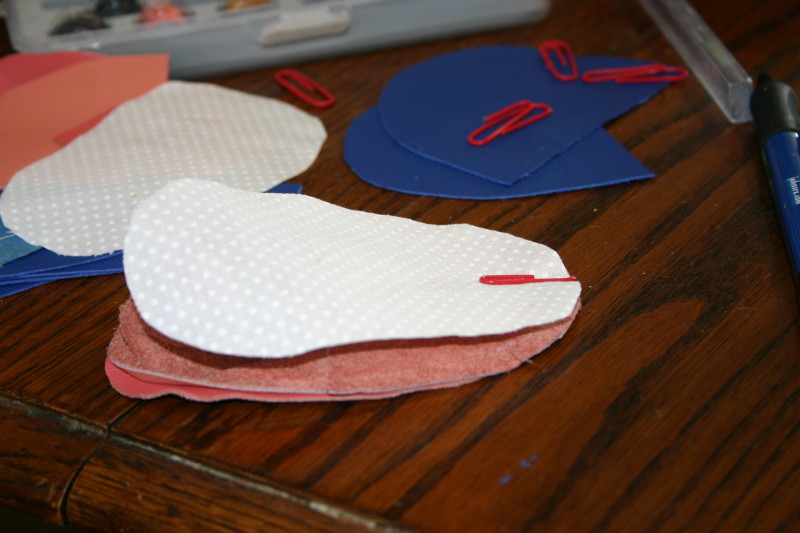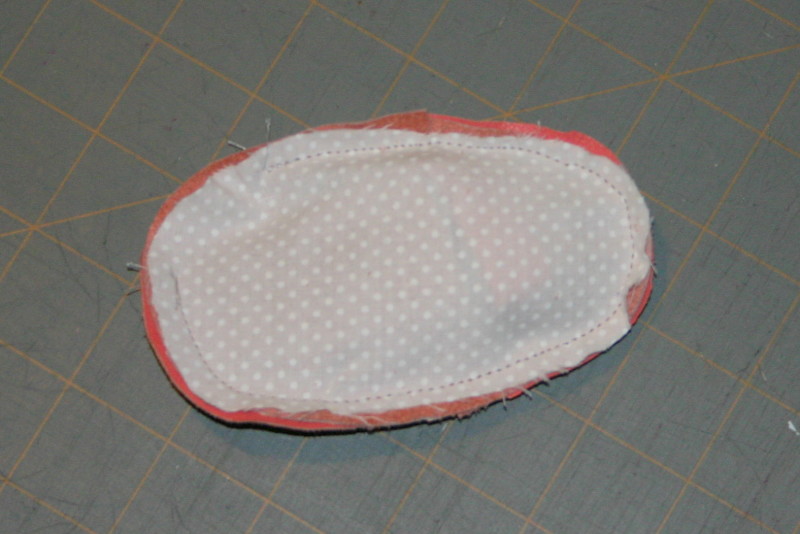 4. Turn right side out, but leave toe folded back so that you can hand stitch the opening closed.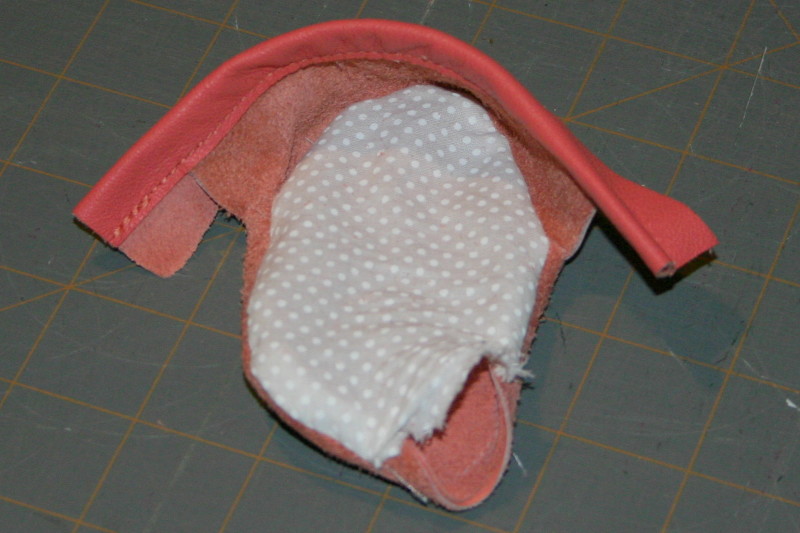 5.  Flip toe over, add elastic, cut fringe and "ooh & aah" over your new cute line moccasins!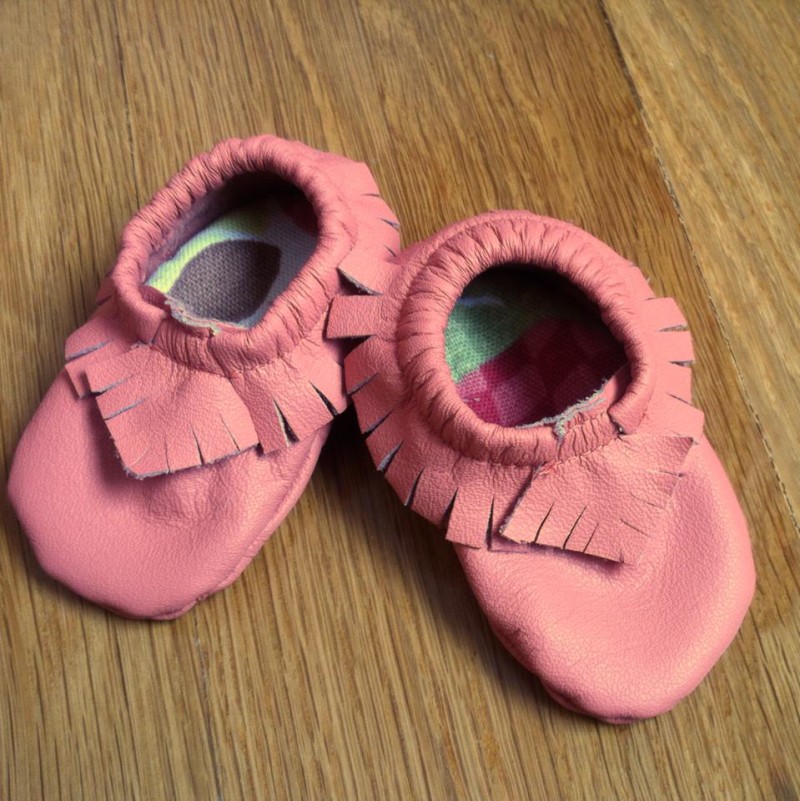 Second Method:  This method has less steps, but can be trickier.
1.  With right sides facing in, sandwich together your pieces in the following order.  Bottom leather piece, heel, toe, and lining piece.  (See step 3 above to get an idea of what it would look like)  Pin with paper clips.  Sew using 1/4 inch seam allowance leaving a 1.5 inch gap to turn the moccasins.
2. Before turning moccs, fold lining back between two end points as pictured below.  Then sew through just the leather between those two points.  This will close the gap in the toe on the leather (outer) side of the  shoes.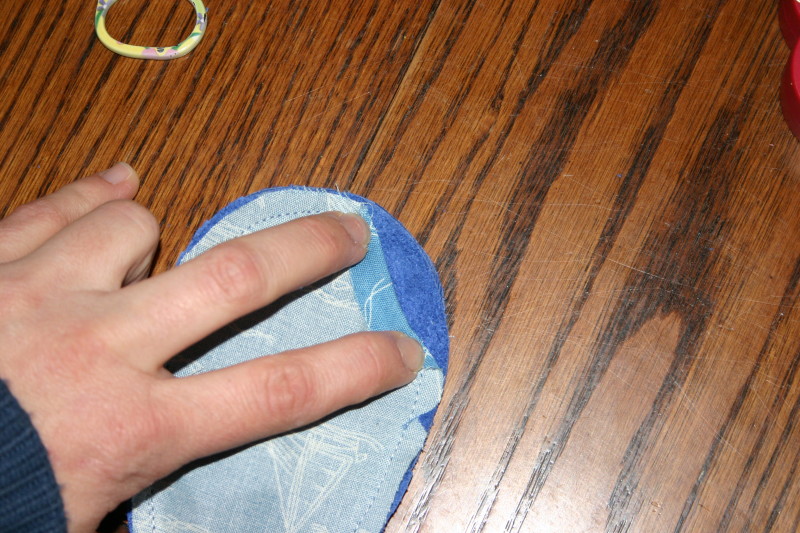 3. Turn right side out and hand stitch the lining closed (see Step 4 and 5 above).
In both cases I leave the gap in the toe so that my hand stitched portion will be hidden.