Today I am going to try to explain my brain. Ha!  My husband says it cannot be done…but I will try…as chances are very good that you (the reader) are female and we speak the same language.
So with no further ado…
I love my Columbia snow jacket because it has pockets everywhere!  Like SIX of them!  Okay…I didn't count them and I am too lazy to go downstairs and do so, but you get my point.  Now let me tell you about my favorite.  It is a small zippered pocket on my left forearm that is PERFECT sized for my ID, credit card, cash, etc.  This means I don't have to mess with my purse for a quick trip to the store or hiking.
So when I tested the women's Ascent Fleece Pullover, a fabulous pattern by 5 out of 4 Patterns, I knew that my final version would include a hidden card pocket.  This patterns includes a contrast version that allowed me to put an invisible zippered pocket on a contrast seam right along my forearm (happy dance).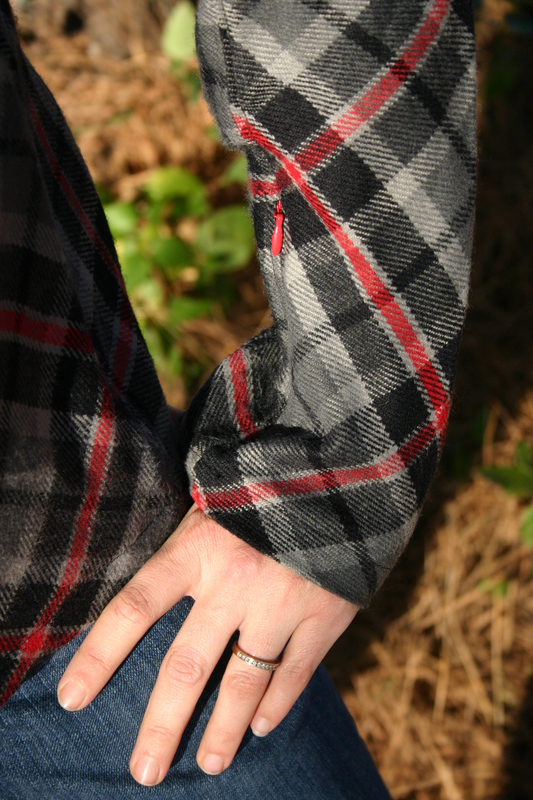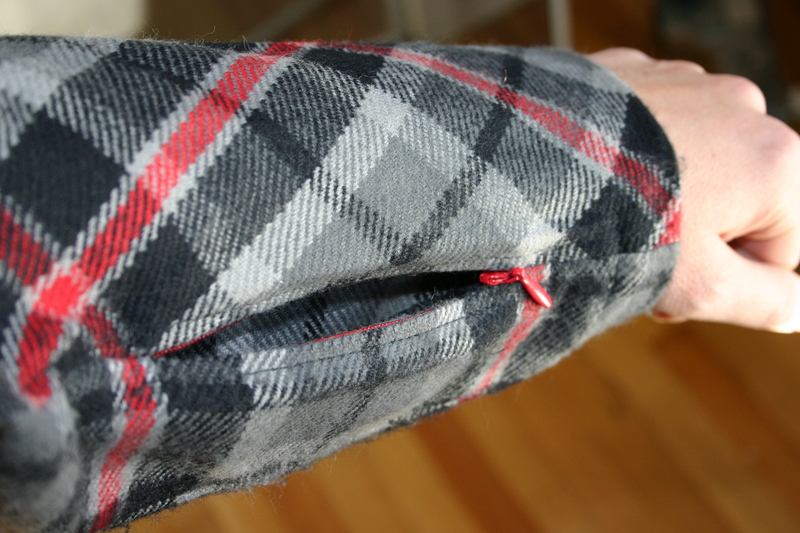 This can be done on any seam for just about any sized pocket.  Below are the final dimensions for my fabric and zipper. If you want to see how I figured it out, keep reading!
Need:
Fabric: Cut 2- 4.25″x 6.5″ rectangles
Zipper: 5″ invisible zipper
How I came up with this:
I measured my credit card, which was 2.25″x 3.5″ (black)
Added 3/8″ seam allowance to all sides which increased the dimensions to 3″x 4.25″ (green)
Next shorten your zipper to 5″, leaving about 1/2″ below the bottom zipper stop
I measured the top portion of the zipper above the zipper stop (1″) and I left 1/2″ below.  This makes my total zipper length 6.5″ long.  Which means I want my pocket to be this long too in order to enclose both ends of zipper tape.
I then compared my "depth" measurement of 3″ to my Columbia jacket and it was a bit shallow.  I then increased it to 4.25″

Don't ask me why…my chicken scratch notes do not say…and it was REALLY late when I was drafting this and do not remember if I came up with this from a measurement or pulled it out of my (uh-um) hat

Final measurements are therefore 4.25″ (deep/width) x 6.5″ (length) with a 5″ zipper

Cut 2 in the fabric of your choice (mine was the same as the main fabric)
Installation:
I wanted to catch the bottom edge of the pocket when I hemmed by sleeve.  Since my sleeve hem was 1 inch, I started the bottom of the zipper 1″ above the bottom sleeve piece (the wrist end)
I installed the zipper and pocket pieces following the instructions included in the Women's Ascent Pullover pattern for the inseam pockets.

Pay attention that you ensure the zipper is on the inner left (if right-handed) contrast seam.

Assemble the remaining pieces, sleeves and bodice according to pattern directions
***VERY IMPORTANT***  To pin the sleeve (left in my case) to the bodice have the bodice inside out and the sleeve right side out.  You slip the sleeve into the bodice RST and pin it to the RIGHT side.

Right about now you are thinking  "wait, I thought this was the LEFT sleeve".  It is, but because the garment is inside out, you have to reverse it (think mirror image) and sew the left sleeve onto the right side.
Trust me,  I seam ripped the stupid sleeves out twice, before I figured it out.

Hem your sleeve (try to catch the bottom edge in your hem, I didn't do so well)
Sew a few tacking stitches at the other end (from the wrist) along the middle seam line.
Pat yourself on the back!  You now have a hidden card pocket…